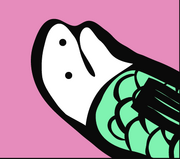 The Fish is a random fish that appears out of nowhere during inappropriate times. When appearing in someone's arms, the holder will then suddenly realize that The Fish is there and wonder to whom it belongs to. 
Appearance
Edit
The Fish is a rather large fish with a white head, teal scales and black fins. 
In the comic it is revealed that the fish's parents were run over by a truck.
It's hinted that The Fish has killed multiple people in the past, and kept them in a garbage can.